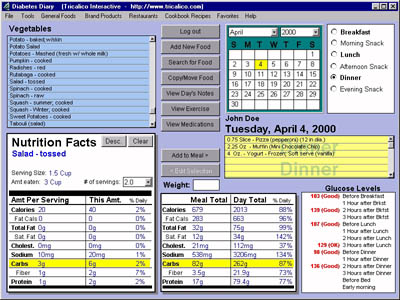 DIABETES DIARY
Diabetes Diary is tracking software for the personal management of important factors for controlling Diabetes. The application tracks daily nutrition and blood glucose levels, as well as exercise and medication notes. Features include:
Track multiple individuals.
Tracks calories, fat, saturated fat, cholesterol, sodium, carbohydrates, fiber, and protein for each meal, each day, and each week.
Tracks blood glucose levels, exercise activity, and weight.
User can specify the amounts of any food consumed and have nutritional totals for the meal and day update automatically.
Over 5000 food selections with corresponding nutritional information including:

Generic food items arranged alphabetically in categories such as baked goods and breads, beef products, beverages, breakfastr foods, condiments, dairy products, desserts and sweets, eggs and egg dishes, ethinic foods, fats and oils, fish and seafood, fruits, grains and pastas, lamb and veal, legumes and nuts, pork products, poultry products, snack foods, soups and sauces, and vegetables.
Brand-name prepared foods from such as Banquet, Budget Gourmet, Chun-King, Healthy Choice, Jenny Craig, Lean Cuisine, as well as popular off-the-shelf food items such as Breyers, Campbell, Chef Boyardee, Del-Monte, Dole, Duncan Hines, Ensure, Franco American, Frito-Lay, General Mills, Green Giant, Hamburger Helper, Jell-O, Kellogg's, Kraft, Louis Rich, Morning Farms, Nabisco, Oscar Mayer, Post, Pepperidge Farms, Quaker, Slim Fast, Tostitos, Wishbone, Yoplait, and more, all arranged alphabetically.
Menu choices from national restaurants such as Arby's, Boston Market, Burger King, Chick-Fil-A, Church's, Denny's, Domino's, Einstein Brothers, El Pollo Loco, Fazoli's, Godfather's, Hardee's, In-N-Out Burger, Jack-in-the-Box, KFC, Krystal, Long John Silvers, McDonalds, Mrs. Fields, Nathan's, Pizza Hut, Rubio's Baja Grill, Schlotzsky's, Subway, Sweet Tomatoes, Taco Bell, Wendy's, White Castle and more, all arranged alphabetically.
Recipe nutritional information from popular diabetic cookbooks such as:

American Diabetes Association's "The Complete Quick & Hearty Diabetic Cookbook"
Better Homes and Garden's "New Diabetic Cookbook"
Mabel Cavaiani's "New Diabetic Cookbook"
Ruth Glick's "The Diabetes Snack, Munch, Nibble, Nosh Book"
Mary Abbott Hess's "The Art of Cooking for the Diabetic"
Kathleen Stanley's "Quick & Easy Diabetic Recipes for One"
Robyn Webb's "Diabetic Meals in 30 Minutes - Or Less"
Robyn Webb's "More Diabetic Meals in 30 Minutes - Or Less"

Customizable! Add your own food selections. Added foods can be permanently stored in the database for future reference. Edit and modify any foods in the database.
Copy or move foods from one category to another. Copy foods to your "favorite" selections for easier access.
Compare the nutritional values for any two food items. Helps you to make wiser choices when planning to dine out or shopping for groceries.
Print daily and weekly reports showing nutrition, blood levels, exercise activity, and weight to show your physician and/or medical team.
Useful for non-diabetics too in tracking nutrition values and controlling weight!
View the user manual for more information.
PRICE: $29.95
Access the order form for purchase via check, money order, or corporate/government purchase order.
(The order form is a PDF document and requires the free Adobe Acrobat plug-in.)


Purchase with credit card via Amazon.com.
SYSTEM REQUIREMENTS
Pentium class computer
Windows 95, 98, NT, or 2000 operating system
16 MB RAM or more
800x600, 256-color display or greater
7 MB storage, plus 3 MB for each patient
Tricalico Interactive - Home